BKV Group Takes Part in Steel-Timber Hybrid Buildings Conference
BKV architects, Rob Muller and Marvin Moss, represented BKV at the two-day event which brought together over 250 members of the AEC industry to examine case studies on the expanding use of mass timber on projects in the U.S., Canada, and Europe.
Held at Mies van der Rohe's Crown Hall on the Illinois Institute of Technology's campus on May 23rd & 24th, the Council on Tall Buildings and Urban Habitat's (CTBUH) held their annual Steel Timber Conference in Chicago, CTBUH's first in-person event since November's Future City conference.
Highlights of the event included progress and construction photos of the first mass timber, mixed-use building constructed under the 2021 ICC codes in Los Angeles, as well as photos and engineering approaches of recently completed and on-going mass timber projects in Norway, Canada, and the U.S., where a 25-story multifamily high-rise in Milwaukee is mere weeks from completion.
The symposium also made first strides towards creating a guide to steel timber construction that would aid in simplifying the design and engineering approaches in this highly evolving field.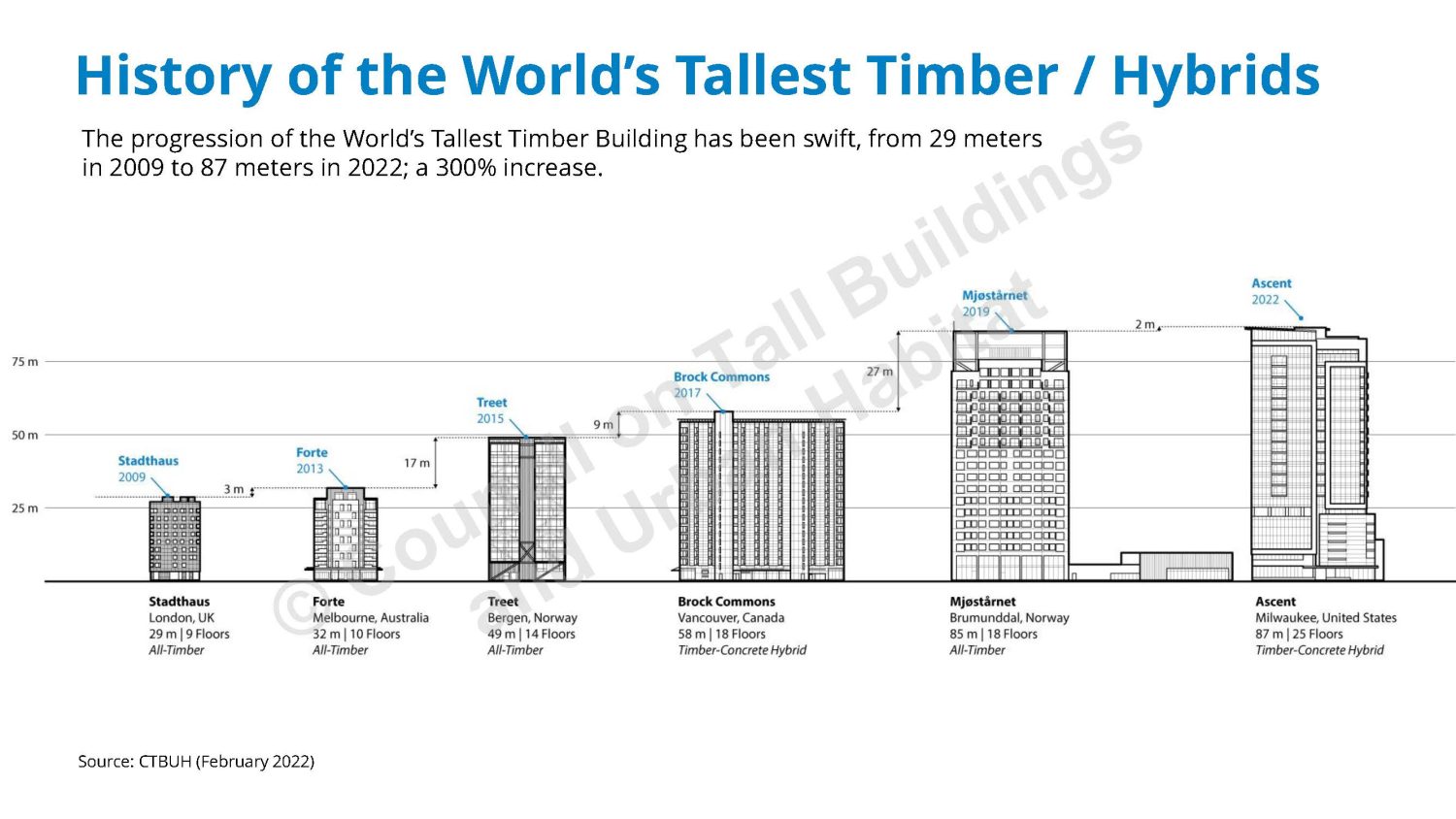 Several presentations were focused on the first mass timber project in Los Angeles, now nearing completion. The project has an innovative structural system utilizing cross-laminated timber (CLT) floor panels, wide-flange steel columns and beams, and special concentric braced frames (SCBF) to handle the heightened seismic loading present on the West Coast.
SCBF, along with concrete shear walls were discussed as the primary lateral systems approaches being used today.  Curiously, wind uplift governs most of the buildings outside of high seismic areas due to the lightweight nature of the construction type, which presents opportunities in areas with poor soil bearing capacities to increase densities without resorting to elaborate foundation systems.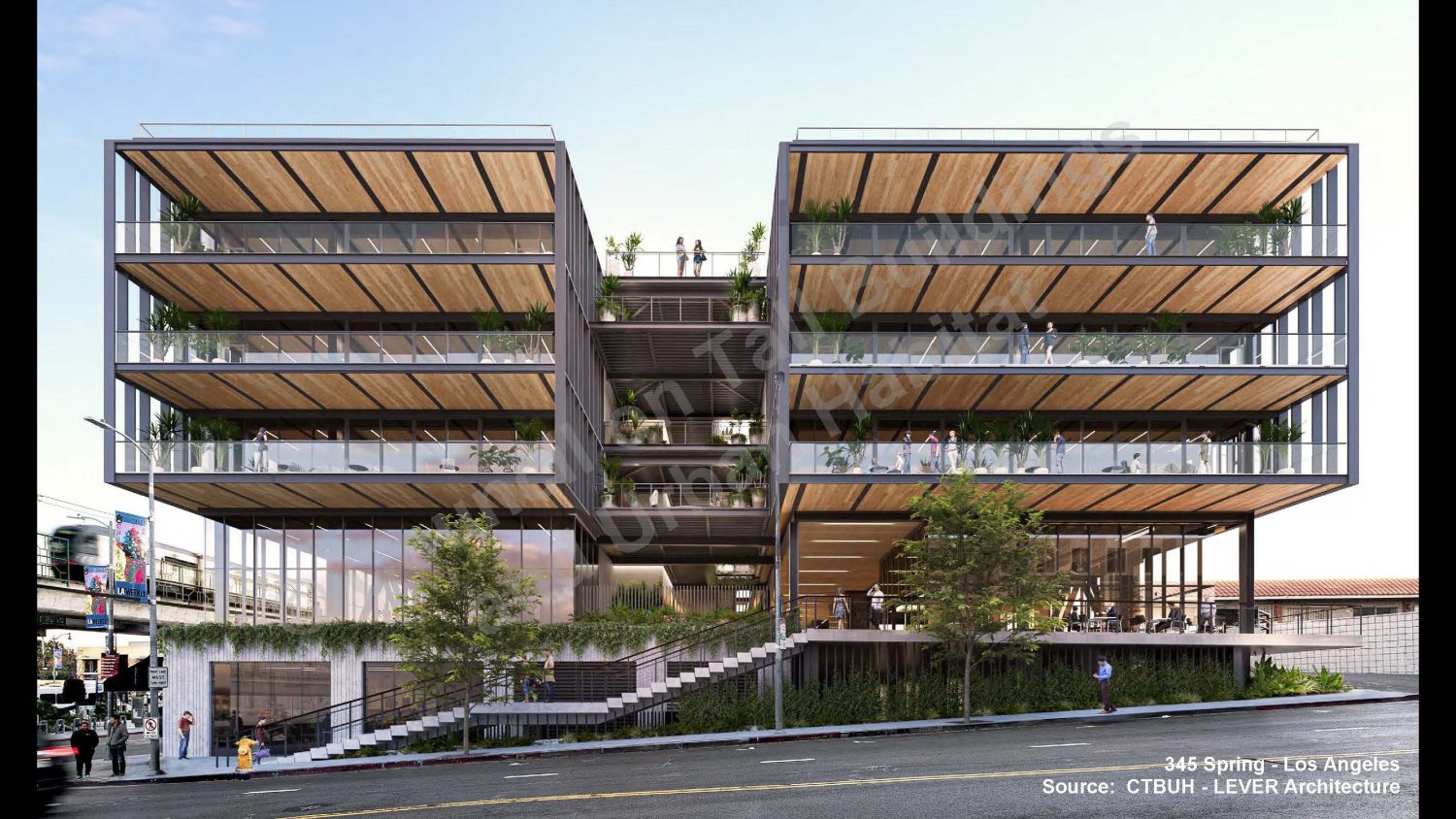 Another focus was on the Milwaukee high-rise that tops out at 25 stories and 284 feet, and which is spurring worldwide interest for its use of mass timber in sustainably adding density at scale and utilizing mass timber for carbon sinks as compared to being used in conjunction with conventional construction.
Developers are taking note of the mass timber construction as they try to add more residential density in the six to thirty-story range, especially as the 2024 ICC codes relax encapsulation requirements for mass timber on taller buildings, allowing more of the structure to be visually expressed.
Mass timber – especially when combined with a steel superstructure – conceivably has no height limitations as a hybrid approach in construction of up to 100-story buildings, as another research presentation had indicated. In addition to acting as a carbon sink, mass timber also unlocks the potential of promoting biophilia in buildings, which various studies have shown increase the productivity and well-being of occupants of buildings in which it is employed. A steel structural grid also allows for greater repurposing of space in the future.
The unknowns surrounding mass timber are slowly regressing as more products, more testing, and more built projects enter the space, and it is primed to compete in the high-rise market for multifamily, hospitality, and office, and as more developers buy into the market differentiation that is offered by the construction type.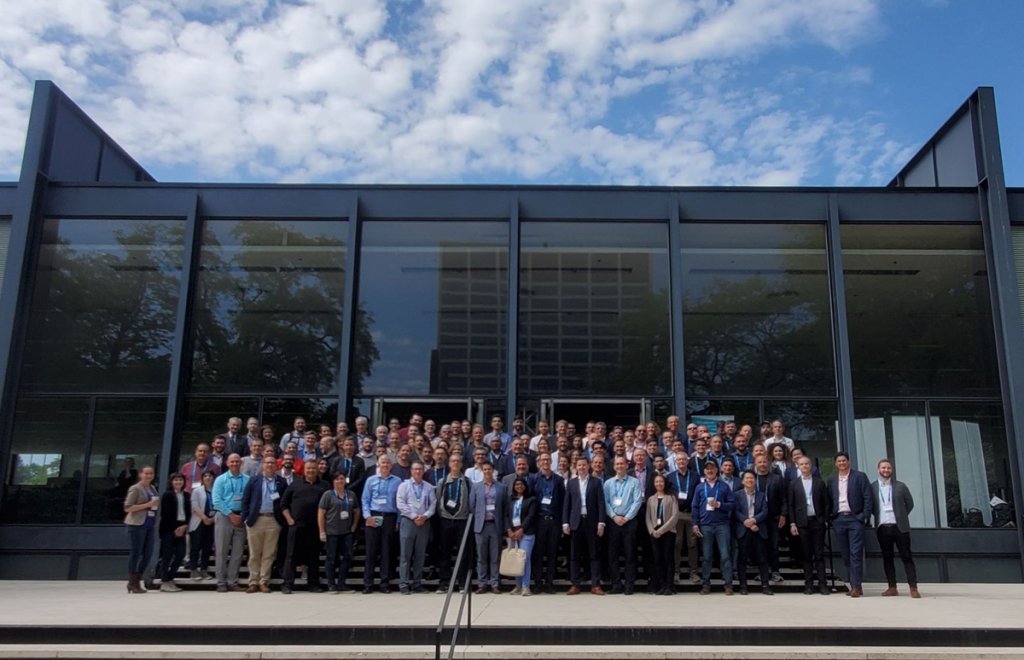 With these insights and findings absorbed by Rob and Marvin, the event rounded out with sub-topics presented including all aspects of the development, design, construction, and operation of steel-timber hybrid buildings, with a view to these combined technologies enabling greater height and better carbon, economic, human and social outcomes in such buildings into the future.
We look forward to learning and educating our clients on the potential steel-timber and/or mass timber holds for the immediate future, and for the long-term.