Building The Vertical Sustainable City
In early February, BKV Group officially opened our 4th practice site in Dallas, Texas, marking a flashbulb moment for the firm expanding to the south and southeast of the United States.
Extending off this announcement, BKV Group is now preparing to expand its footprint even further, beyond the U.S., into southeast Asia. The Texas and Asian market expansions are complementary evolutions for BKV Group, the latter of which will be officially announced later this quarter. By leveraging an integrated design process between our existing offices and our southeast Asia practice site, it creates an exciting, new platform for BKV Group to design from, while continuing to provide excellence in client service.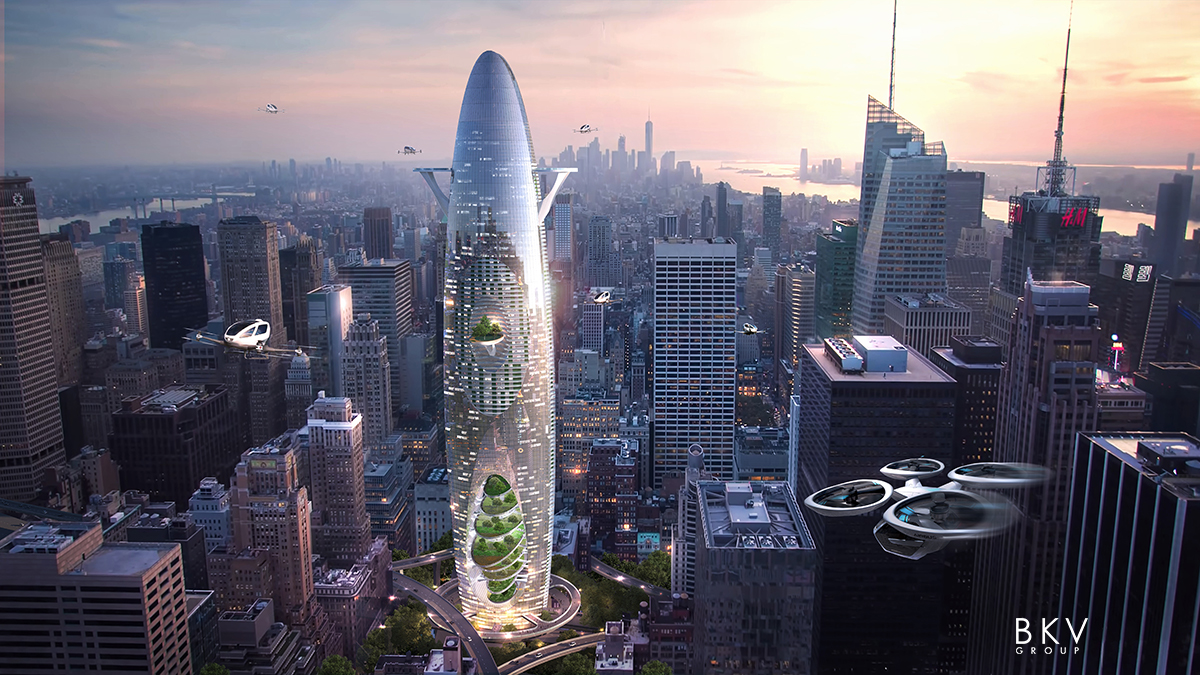 Aerial View (Rendering courtesy of BKV Group)
The assimilation specifically between BKV Group's Dallas and southeast Asia practice sites are already in harmony with an enticingly sustainable and cutting-edge tower concept developed for the 2019 eVolo Skyscraper Competition – one of the world's most prestigious awards for high-rise architecture. Spearheaded by Partner, Jonathan Delcambre, working with his team in Dallas and our visual artists in Asia, they have developed an architectural depiction of what the future of housing might look like.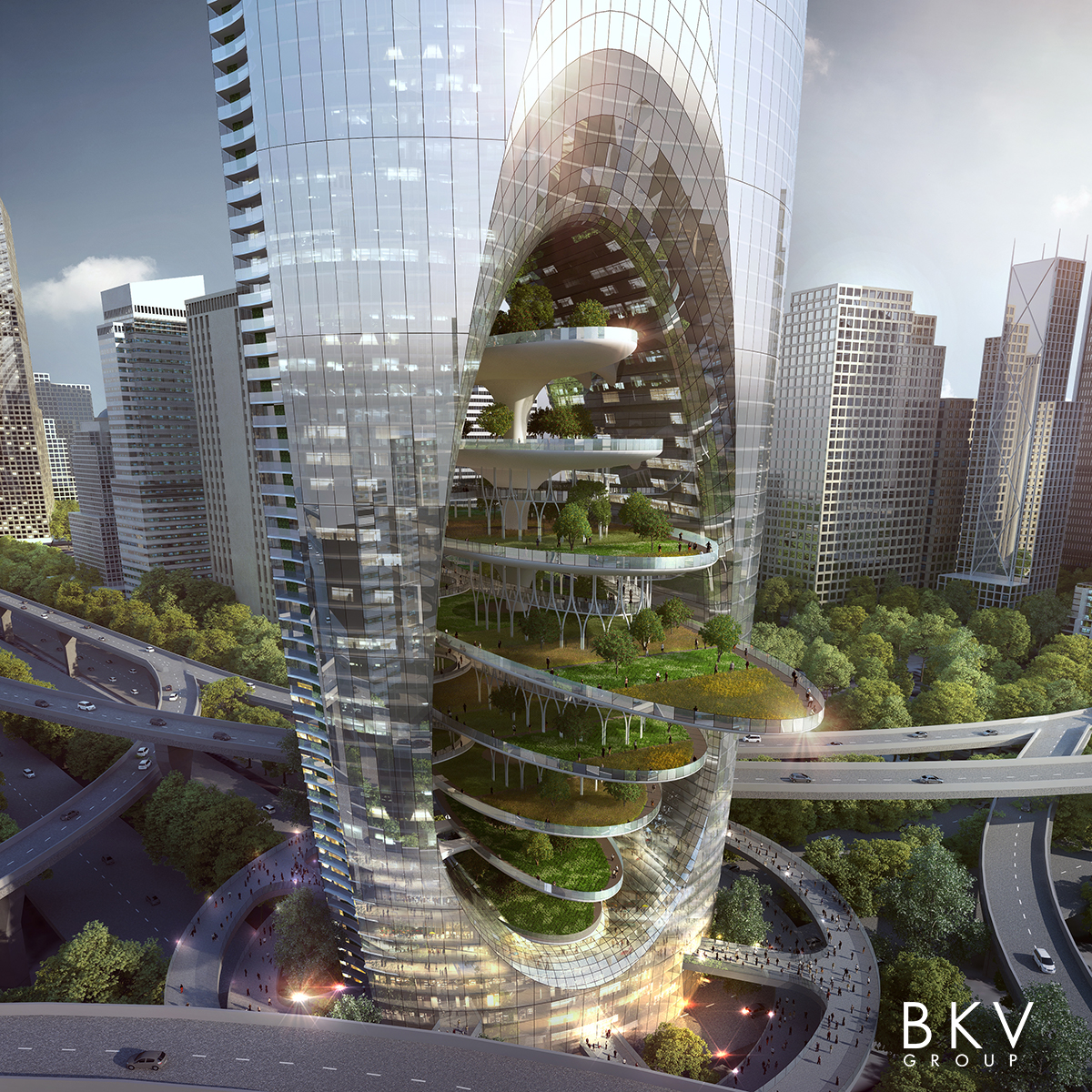 Atrium View (Rendering courtesy of BKV Group)
Titled "The Vertical Sustainable City," the skyscraper concept is an expression of the opportunities and constraints urbanistic contexts present to architects. Juxtaposing the idea of a sprawling, urban development, the vertical shape of the tower is a direct response to minimizing the structure's footprint. The ground floors house commercial areas framed within a vertical mall concept, with a Food Production area directly above where residents and visitors are treated to a vertical, urban farm. Traditionally, agriculture is trucked into cities from rural areas, but this tower posits a farm-to-table experience where food can be grown, harvested, and consumed on-site in a single, vertical structure. Having access to the vertical farm are residences in the upper half of the tower that feature access to drone landing pads. There, electric and solar-powered drones can dock at or near the elevated housing units – taking traffic off the congested street-level, and into the air. Rising to the very top of the tower is the Office Area, arranged around wind turbines generating energy, reducing the tower's carbon footprint, and creating water collection systems for the farming, living, and working programs. En masse, the Vertical Sustainable City creates a holistic live/work/play environment for urbanites, effectively responding to the context and elements impacting modern-day cities.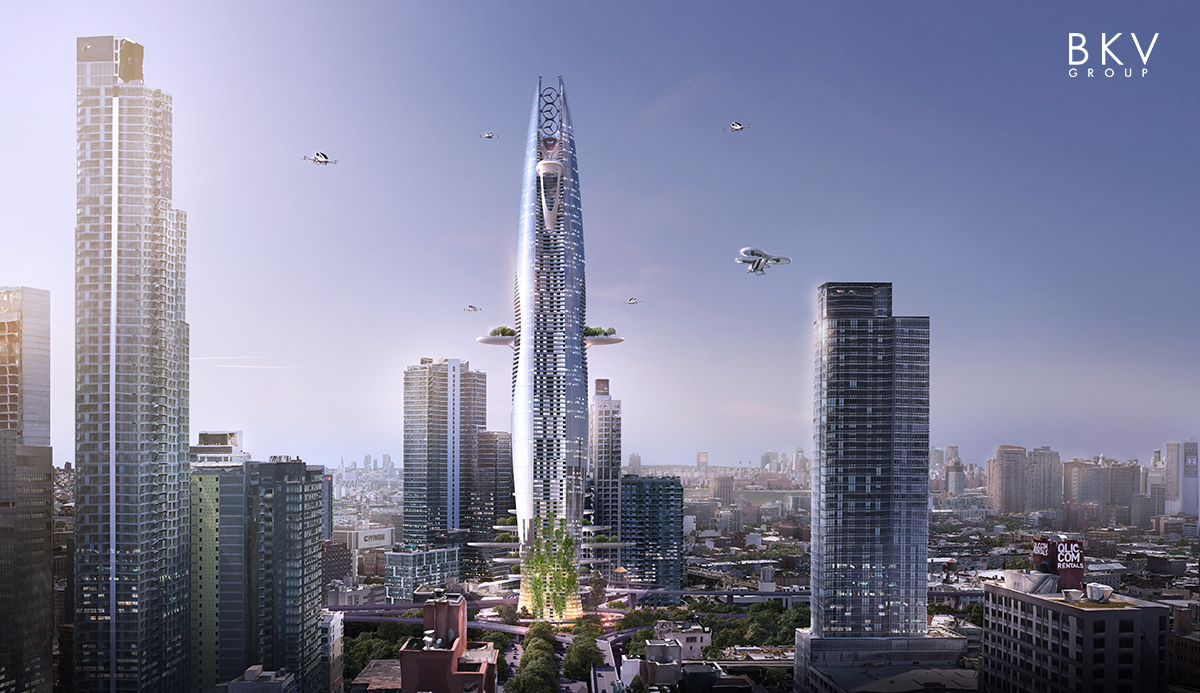 Street View (Rendering courtesy of BKV Group)