Adaptive Reuse of Historic C.J. Duffey Paper Co. Site Completed in Minneapolis' North Loop
BKV Group announced the completion of The Duffey, a 188-unit mixed-use community housed on a portion of the former C.J. Duffey Paper Co. site in Minneapolis' North Loop neighborhood. Developed by Chicago-based CEDARst Companies, the adaptive reuse project converted three historic warehouses into market-rate apartments, 22,700 square feet of retail space, and 10,300 square feet of resident amenities, including a 4,000-square-foot Crane Room – complete with a large, intact industrial crane soaring overhead – that functions as the lobby and is programmed with coworking space, a coffee shop and concierge services.
Spanning nearly a full city block, the refurbished buildings include the six-story Minneapolis Iron Store – Main Building and three-level Minneapolis Iron Store – Warehouse Building, which were constructed in 1916, as well as the two-story Lindsay Brothers Warehouse, built in 1910. All three are in the Twentieth Century Warehouse Area within the Minneapolis Warehouse Historic District, listed on the National Register of Historic Places and, prior to the redevelopment, sat vacant for nearly 15 years. BKV Group provided planning and pre-development services for the project and led all engineering, architecture and landscape architecture, ensuring protected elements were appropriately preserved.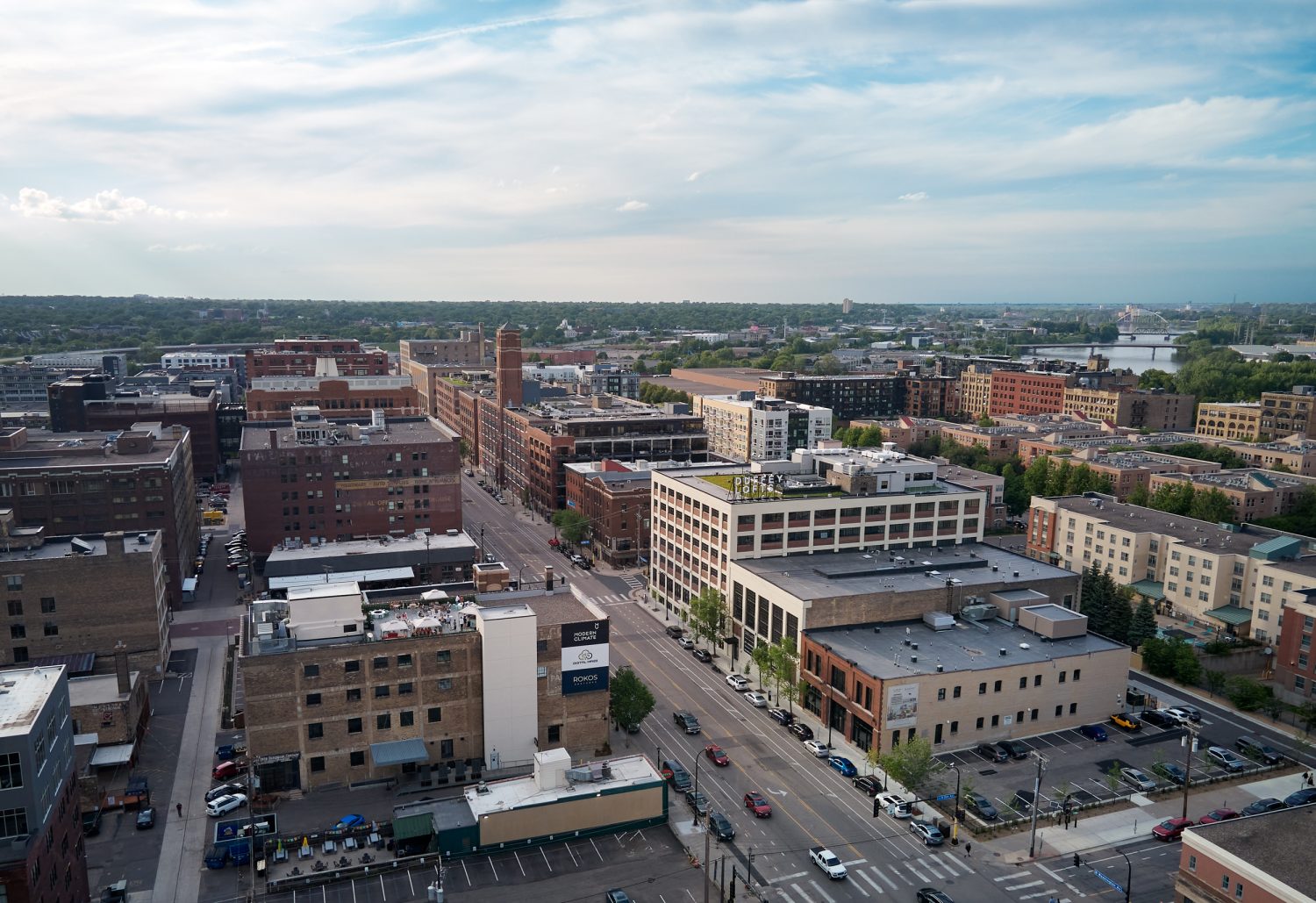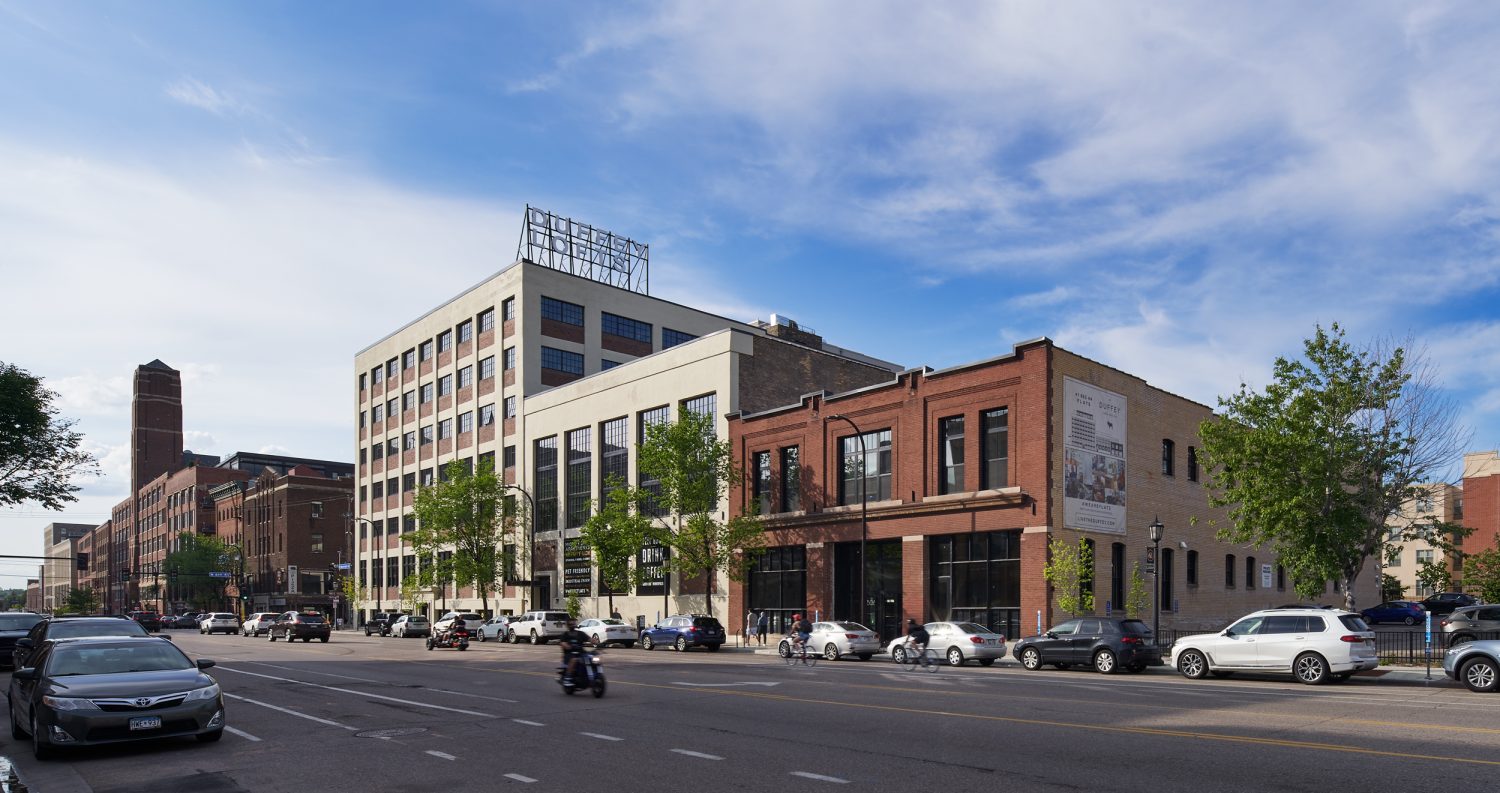 "The Duffey is not only a home for renters drawn to the character of the Warehouse District, but also a destination for the surrounding community, with a coffee shop and coworking space integrated into the development's lobby, as well as the included commercial spaces designed to house local restaurants and businesses," continued Smith.
BKV Group designed the new community with a best-in-class amenity package, including the addition of a rooftop deck with outdoor lawn and lounge space, pet relief area, a 4,000-square-foot fitness center with boxing ring, a multi-level clubroom offering panoramic views of Minneapolis, a large indoor bike storage room, over 100 indoor parking spaces and 32 outdoor spots. The Crane Room features cozy seating, 20-foot-high industrial windows, exposed brick, a steel and timber roof, and built-in shelving adorned with plants.
Over the course of the project, which broke ground in August 2020, the design team faced challenges in converting the structures from industrial to residential use. These included finding a way to bring light into interiors through creation of a centralized atrium space and constructing a parking structure within the existing footprint of the property.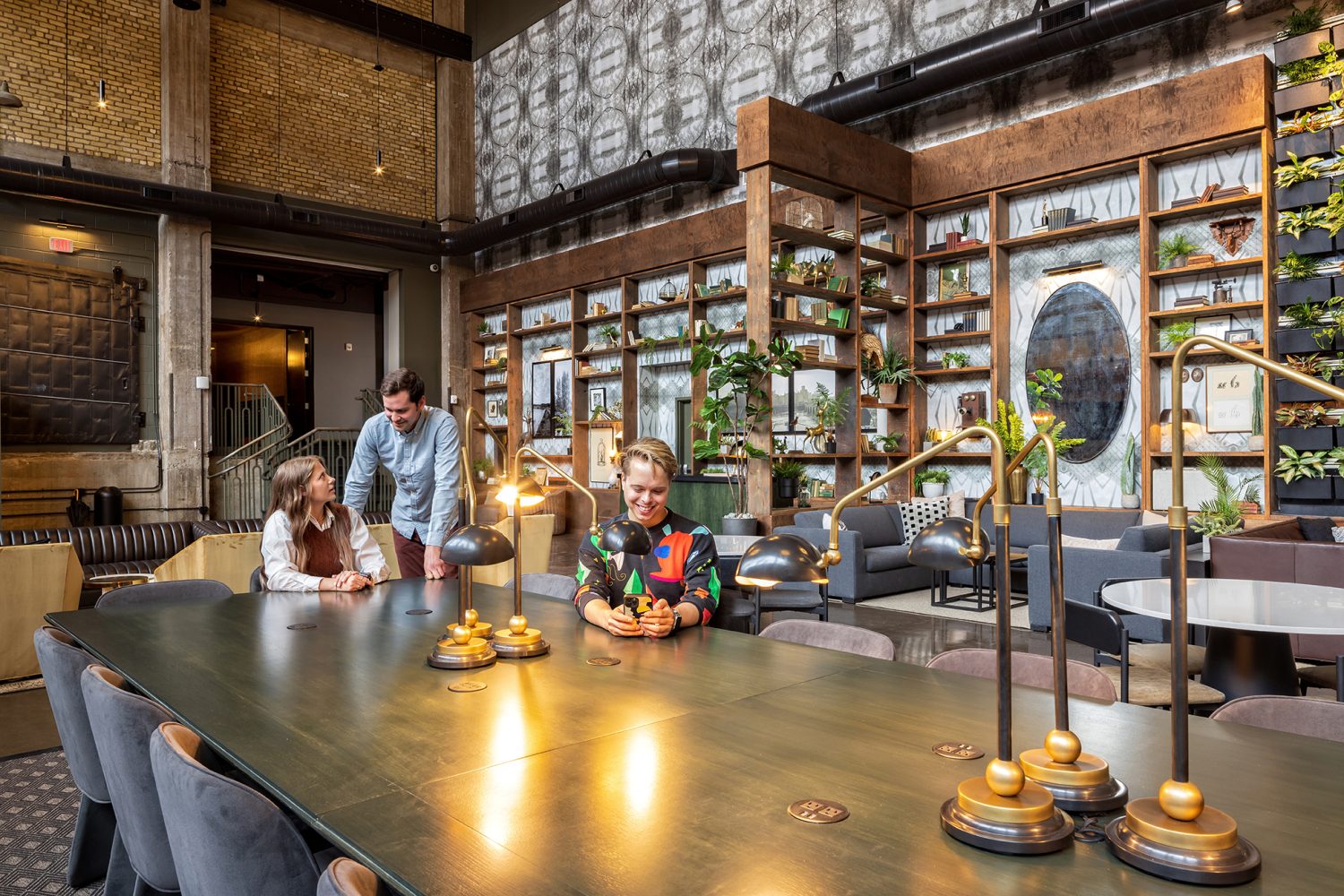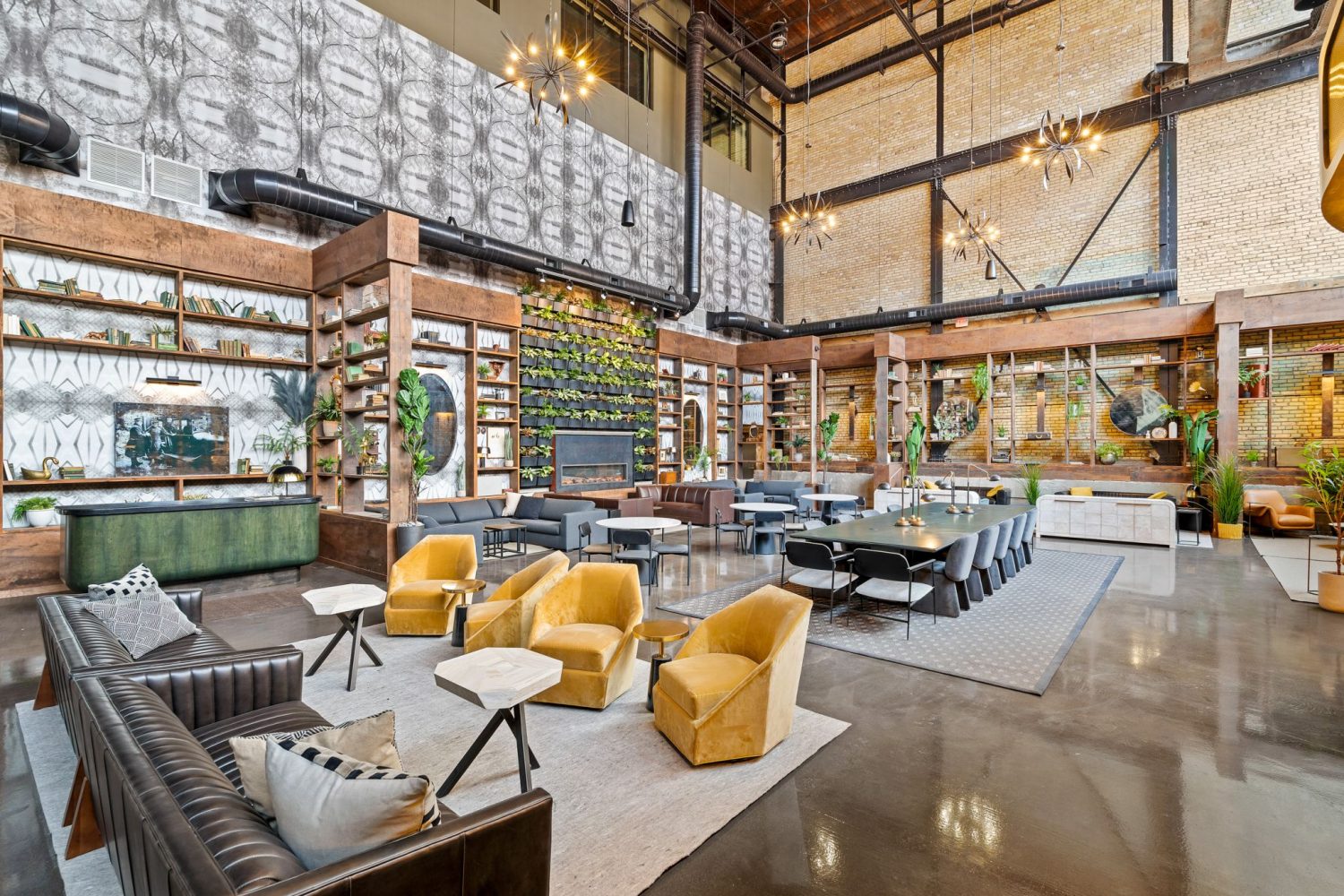 "The goal was to maintain the historic look and feel of the existing structures while maximizing exterior views and natural light for all apartments," said Smith. "By cutting a light well into the center of the main Minneapolis Iron Store building, we were able to brighten the interior-facing apartments, and through a combination of COMSLAB and DELTABEAM, we successfully and efficiently integrated parking and usable square footage into the historic shell of the Warehouse Building."
For sustainability, saving the existing structure avoided significant new resource consumption and sending the building to landfill, Smith added. The project also utilizes a highly efficient VRF mechanical system that has a small footprint within the residential units and saves energy compared to more traditional mechanical designs.
The redevelopment, which utilized state and federal historic preservation tax credits, was designed to adhere to all requirements of the Minnesota State Historic Preservation Office and National Park Service. BKV is working with CEDARst on another North Loop development project, Duffey II, which involves repurposing two existing buildings, including another former paper company's warehouse, in addition to construction of a new ground-up property on an existing parking lot.