Revitalizing Existing Environments
BKV Group's Interior Design team contributes to renovations across our five project sectors with projects of varying size and scale. These projects include a range of construction budgets, with differing levels of refinishing and reuse –from minor finish updates, to major space plan updates for modified usage needs.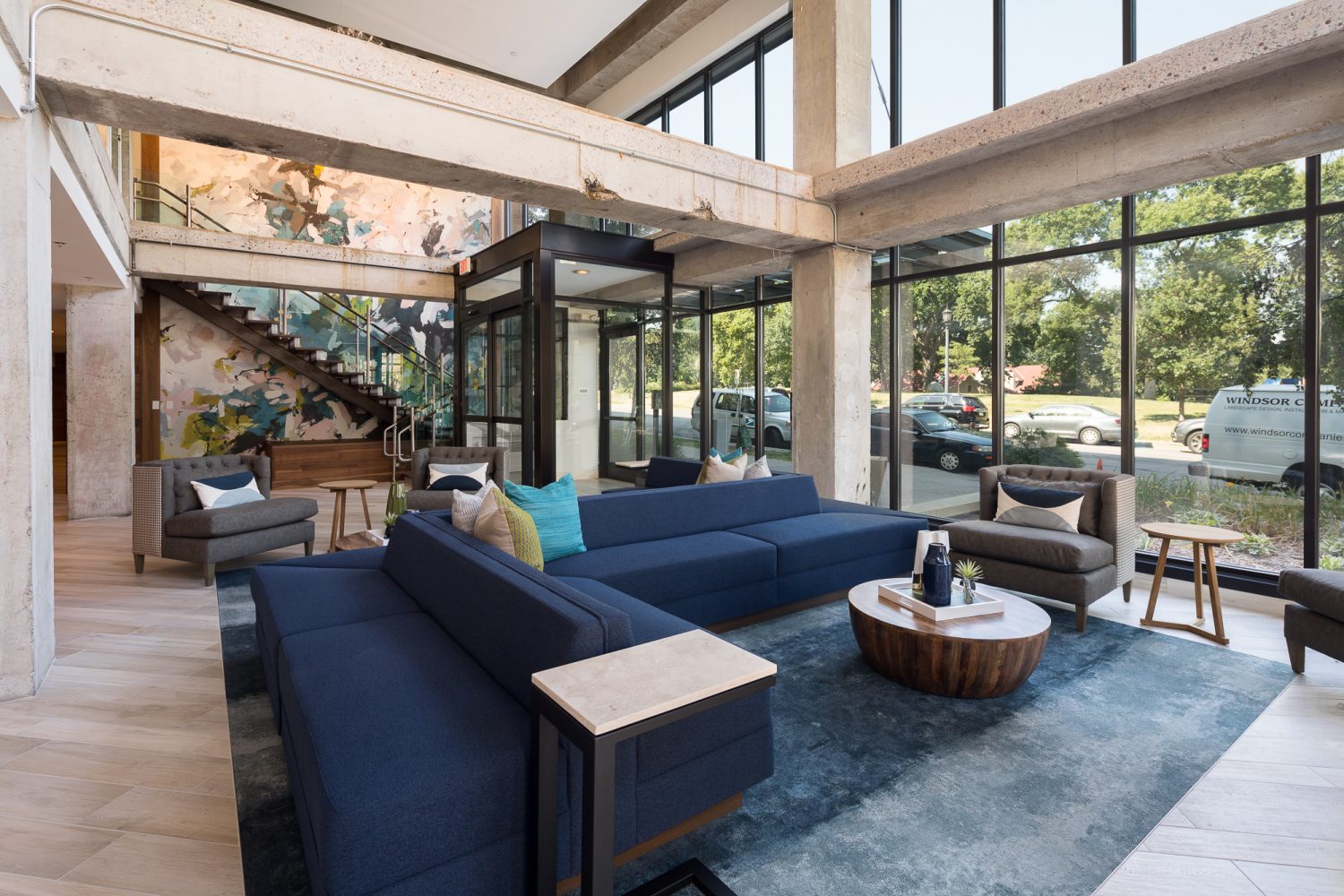 Our interior design team's process of working collaboratively with developers, property managers, municipalities, facilities managers, and other stakeholders starts from defining the overarching goal that a renovation project is trying to achieve, and then framing a creative approach to achieve those goals within the allocated budget. We incorporate a sustainable mindset into the start of a project: identifying components, materials, and assemblies to retain and reuse that would otherwise have high environmental and financial impacts if removed. This allows our team to center our approach on the creation of added amenities and functions to the space to prompt an elevated user experience.
In the Summer of 2020, the City of Circle Pines (Minnesota) was a recipient of Federal CARES Act funding as a COVID-19 pandemic response and reached out to BKV Group to understand their options for utilizing these funds to improve their space for staff and visitor health and safety. BKV Group worked with the city to redesign their administrative office space to respond to CDC guidelines for space planning and airflow management, while also creating a more functional environment for day-to-day operations, with sustainability and long-term human health at the forefront.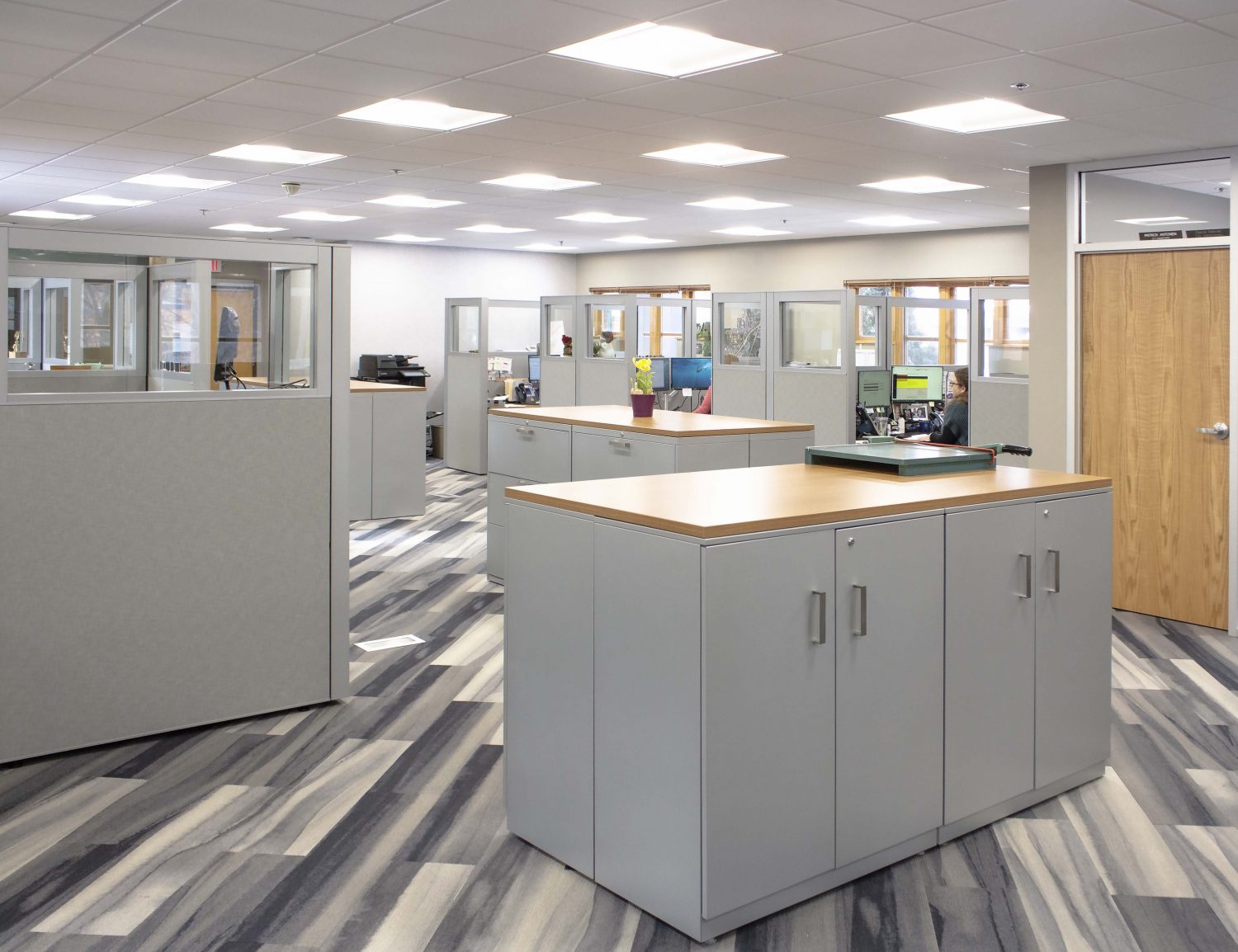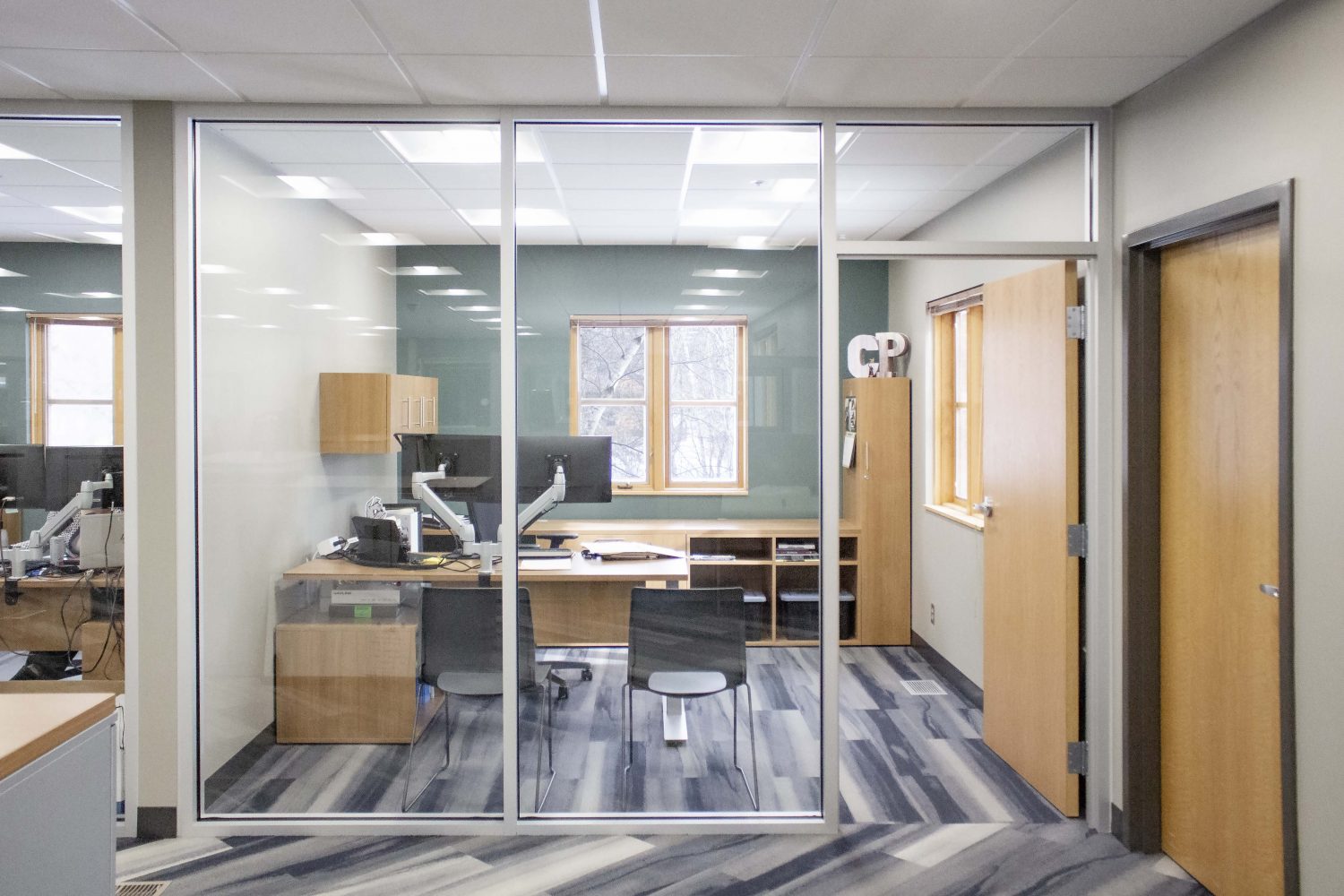 Within the scope of the project, BKV Group was responsible for the redesign of the staff workspace, modifications to the city council, as well as minor adjustments such as adding storage and additional security measures. The compressed time frame of 2 ½ months to complete the project required BKV to quickly mobilize to modernize the 1980's space. The team strategically opened the existing compartmentalized office space, previously too dense to meet CDC recommendations for social distancing. Beyond achieving the ability to allow staff to socially distance, this also created direct sightlines to the service counter, providing a more efficient service delivery approach. With partitions removed, natural light beams into the space connecting the staff with views of nature. Workstations with glass panels capping the assembly allow natural light to move through the space and make communication with colleagues possible, while providing a physical barrier to alleviate concerns of COVID-19.
With a focus on retaining existing architectural elements, BKV Group reduced the amount of construction waste while also minimizing the use of new materials – benefitting project costs and construction timeline. Existing doors, frames, light fixtures, appliances, window coverings, and even sections of carpet salvaged for reuse were all strategies employed to reduce construction waste. Creating an interior material palette that blended with and enhanced the existing elements was paramount to the reduction in construction waste.
This was a close collaborative process with the city in exploring design options and providing prompt support. Through this close working relationship with the City (Circle Pines), Contractor (Welsh Construction), Furniture Dealer (FLUID Interiors), and product manufacturers, the project goals were achieved and implemented on time and on budget.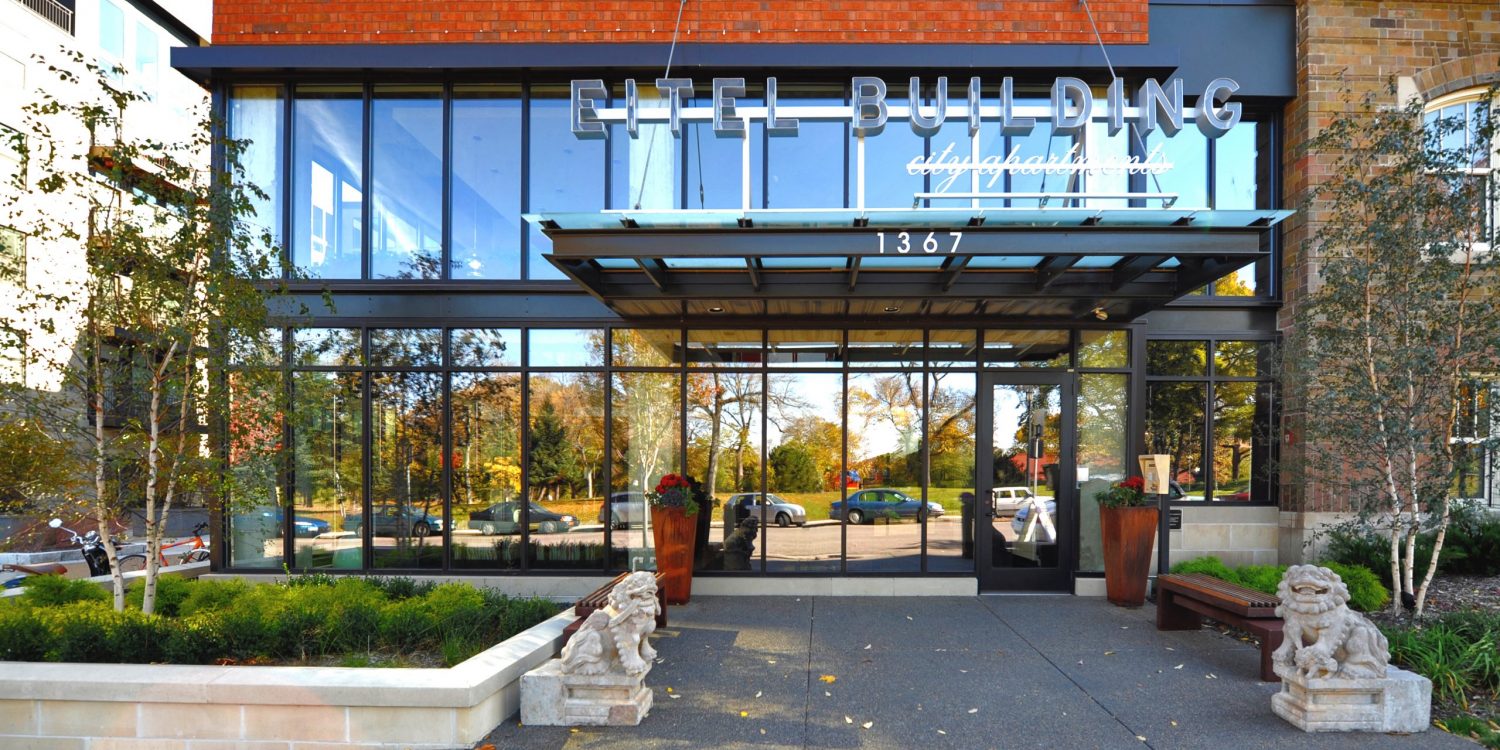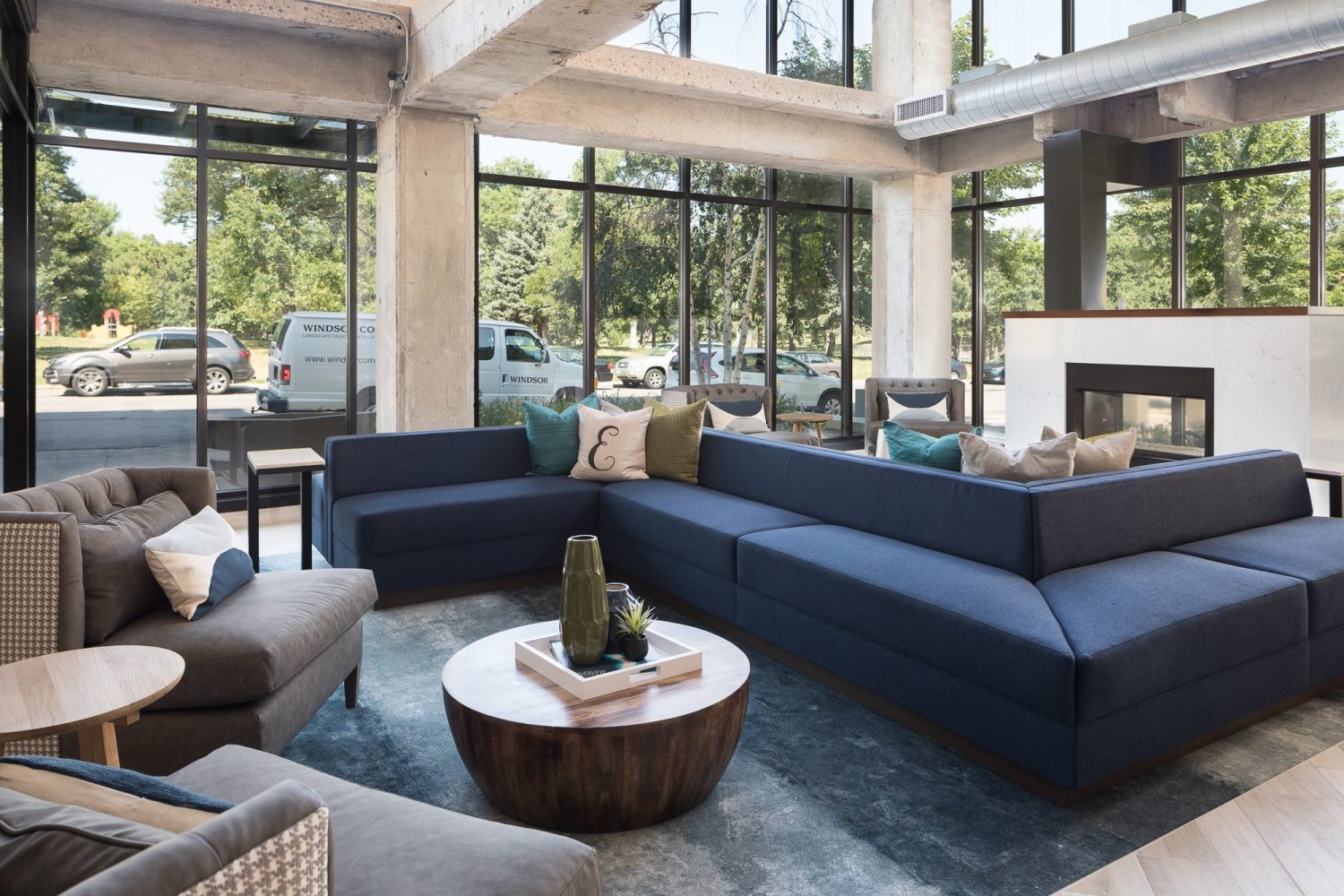 These strategic approaches to renovation have been applied to the multifamily sector as well. In Loring Park, a lively neighborhood in Minneapolis inhabited largely by mostly young adults, BKV Group worked with Greystar to renovate and rebrand an existing multi-family residential building rebranded as Eitel Apartments.
The property management and development stakeholders approached BKV Group with an understanding of the impediments within the building's design that hindered a luxury living experience for their residents. Our team worked with the owner group to create a vision for the space that reflected the luxury service approach offered by site staff. To manage the client's budget expectations, it was critical for our team to identify  as many existing elements as possible to be reused or revitalized to give new life to the space to elevate the luxury experience.
Within this project scope, BKV was responsible for the redesign of four key amenity spaces: the first-floor clubroom, lobby, and leasing suite, and an 8th floor Skyclub with adjacent rooftop terrace. After the initial walk through of the site, our team identified which key features to replace that would make the largest impact on style and feel, while retaining high-cost elements such as millwork, hard surface flooring and wall assemblies. To give the entire project a new sense of character and identity, we targeted carpeting, backsplash tile, paint, wallcoverings, furniture replacement, art, and accessories.  The newly specified furniture is mobile, adaptable, and multifunctional, allowing the user to adapt to the potential changing needs within each space, while also providing an opportunity for punches of color and branding to be changed over time.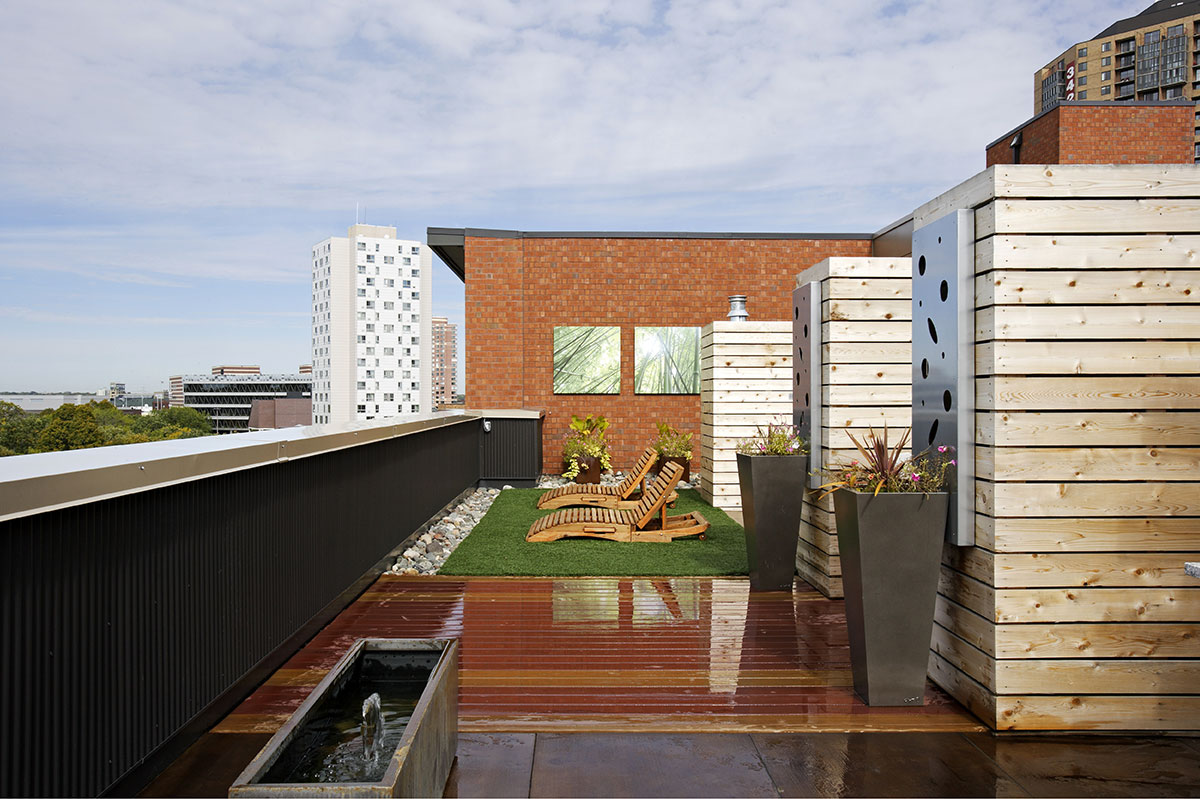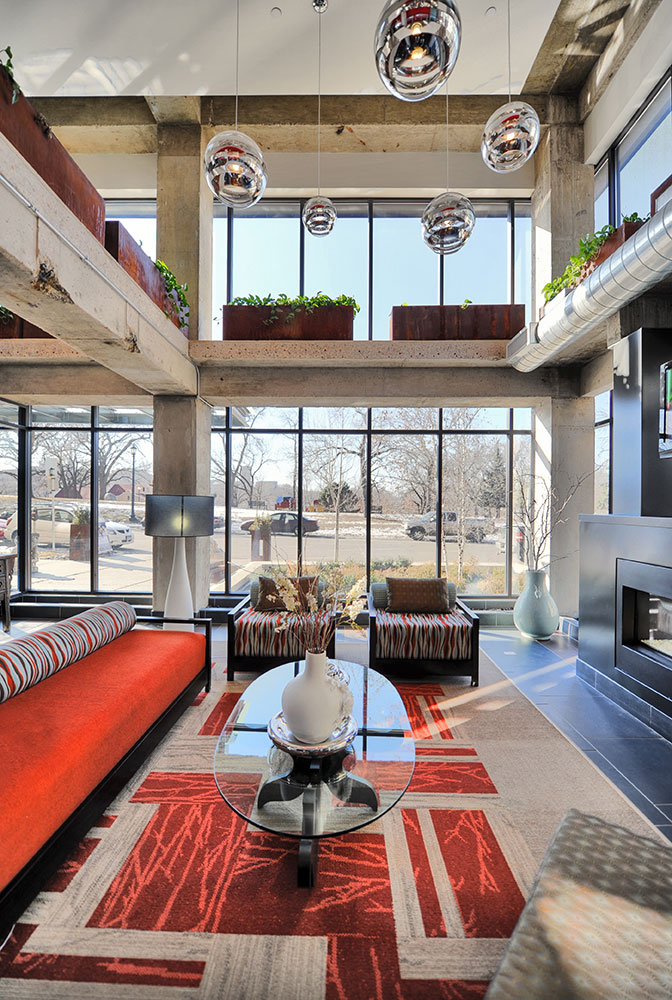 BKV Group's interiors team successfully works with project stakeholders to provide successful renovations that meet user needs within limited construction budgets. As we near the end of the COVID-19 pandemic and approach a return to public environments in office, restaurant, retail, and other spaces, now is the time to consider what operational and spatial adaptations are required in these environments to reflect the varying levels of comfort of users. When considering a renovation to upgrade the functionality, value, and aesthetics of an environment, evaluate which elements will create the most significant impact versus those that are more costly to alter. Creating a space with the ability to respond to evolving user expectations is key to easing future changing needs within a limited budget.
To achieve the most out of your renovation project, understanding the desired functionality of the environment is key. Ensure a consideration of retaining existing elements that are prohibitive to replace and which need refurbishing or added treatments to meet the outlined goals of the project. In our next post of this series, we will cover how to approach new design and construction to develop an environment that offers increased access to flexibility for evolving future changes to workflow, technology, and more.