A-Mill Artist Lofts
Minneapolis, MN
Rising above the century-old cobblestones of Main Street, the historic Pillsbury A-Mill is an iconic Twin Cities and National Historic Landmark. Now reimagined as the A-Mill Artist Lofts, a community of affordable artist apartments, it remains a physically impressive reminder of the origins of the city of Minneapolis as the flour milling capital of the world. The building retained many of the historic features of the original mill, including the original stone foundation and exterior. The interior design also incorporated much of the mill's internal operations equipment.  Members of our interiors team seamlessly integrated items such as chutes, pulleys, and lifts into the new spaces. The result is a look that is bold and modern, but it also tells the story of the building's past. The 251-unit building includes many art studios, galleries, and gathering spaces for artists to pursue their craft, show their work, and collaborate with other residents.
Client: Dominium
Type: Affordable, Creative Reuse
Size: 430,000 SF; 251 units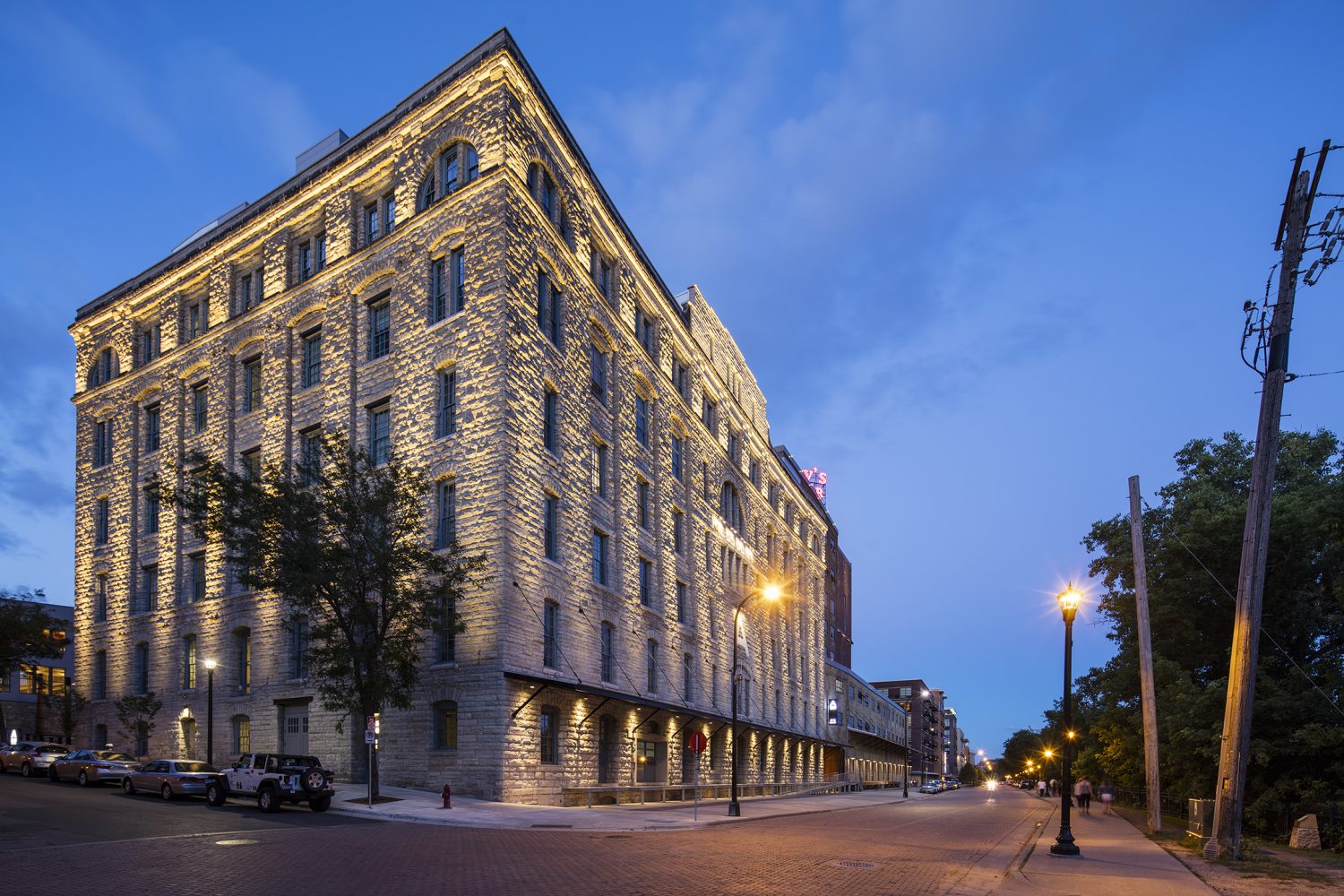 Sustainability
The mill originally drew power from the Mississippi River – right outside its front door – from a hydroelectric system. Combining modern generating equipment with this existing infrastructure generates clean, renewable energy. This power source provides electricity for more than 70 percent of the A-Mill Artist Lofts' peak power needs. The building is also LEED Gold certified thanks to this system and other sustainable initiatives.
THE "WOONERF"
Transforming the historic rail path into a modern woonerf (Dutch term meaning "living street") preserves movement through the complex while connecting surrounding developments. Integrating a shared walkway provides the community with a lively, social environment and paths extending to the vibrant riverfront.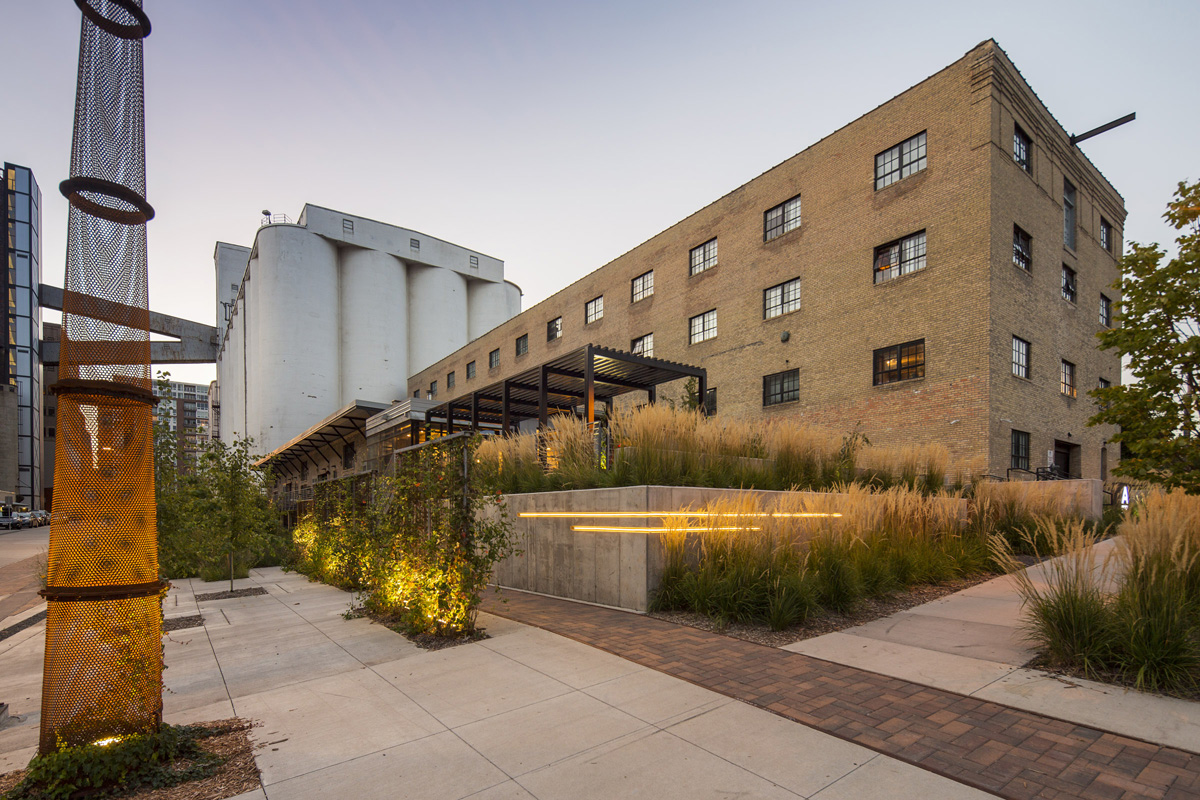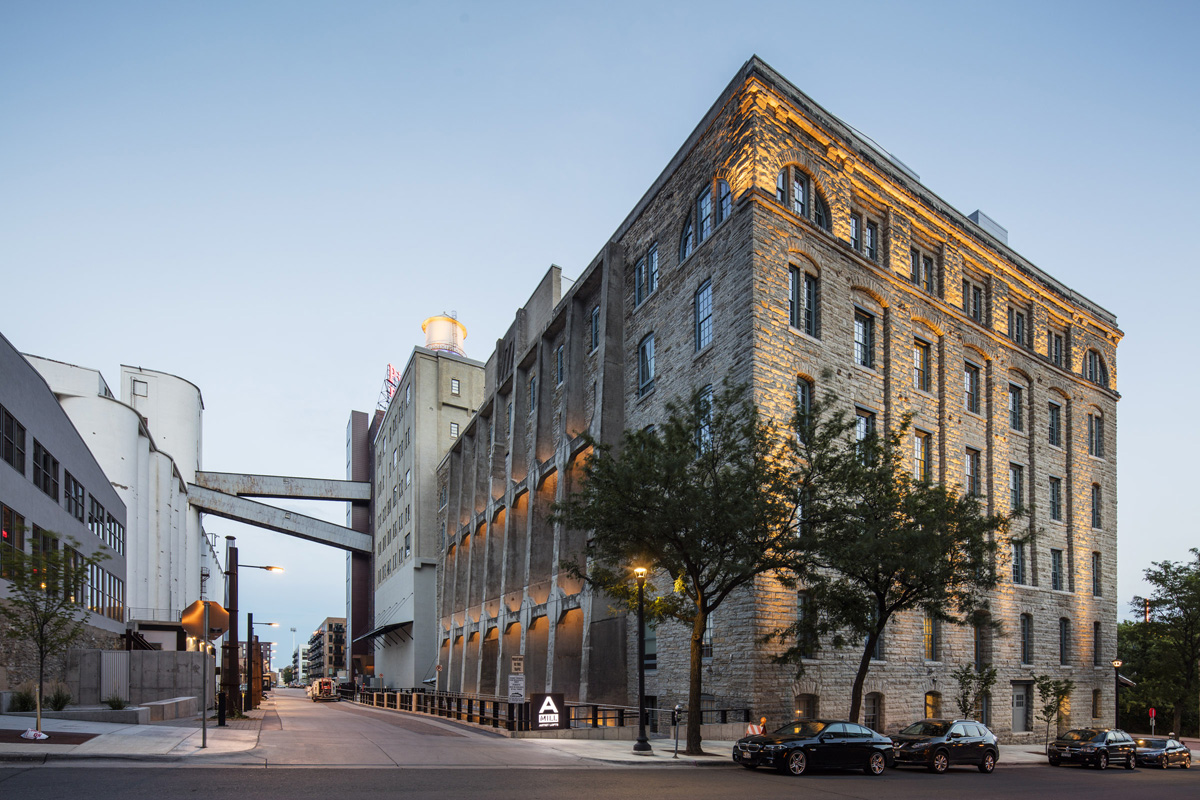 A COMMUNITY OF ARTISTS
The design team incorporated much of the mill's internal operations equipment, seamlessly integrating them into the new spaces to tell the story of the building's past. The old stone is highlighted with accent lighting to bring attention to the beauty inside this flour bin that serves as the elevator lobby. The adaptive reuse of a vacant mill and warehouse into viable residential living spaces has changed the socio-economic viability of the neighborhood with shops, restaurants and cafes flourishing nearby. The artistic energy created by the A-Mill has also reinvigorated the city's embrace of the river with bridges and sidewalks adjacent to the river filled with people enjoying their vibrant riverfront community.