BKV Workshop
BKV Workshop is a design outreach effort hosted within BKV Group whose primary focus lies in giving back to the communities we work within. By leveraging the collective power of our multidisciplinary, holistic design practice, we provide valuable professional services to people that may not otherwise have access. BKV believes we have a social responsibility to give back and support our local, national, and global communities through projects that benefit the public good.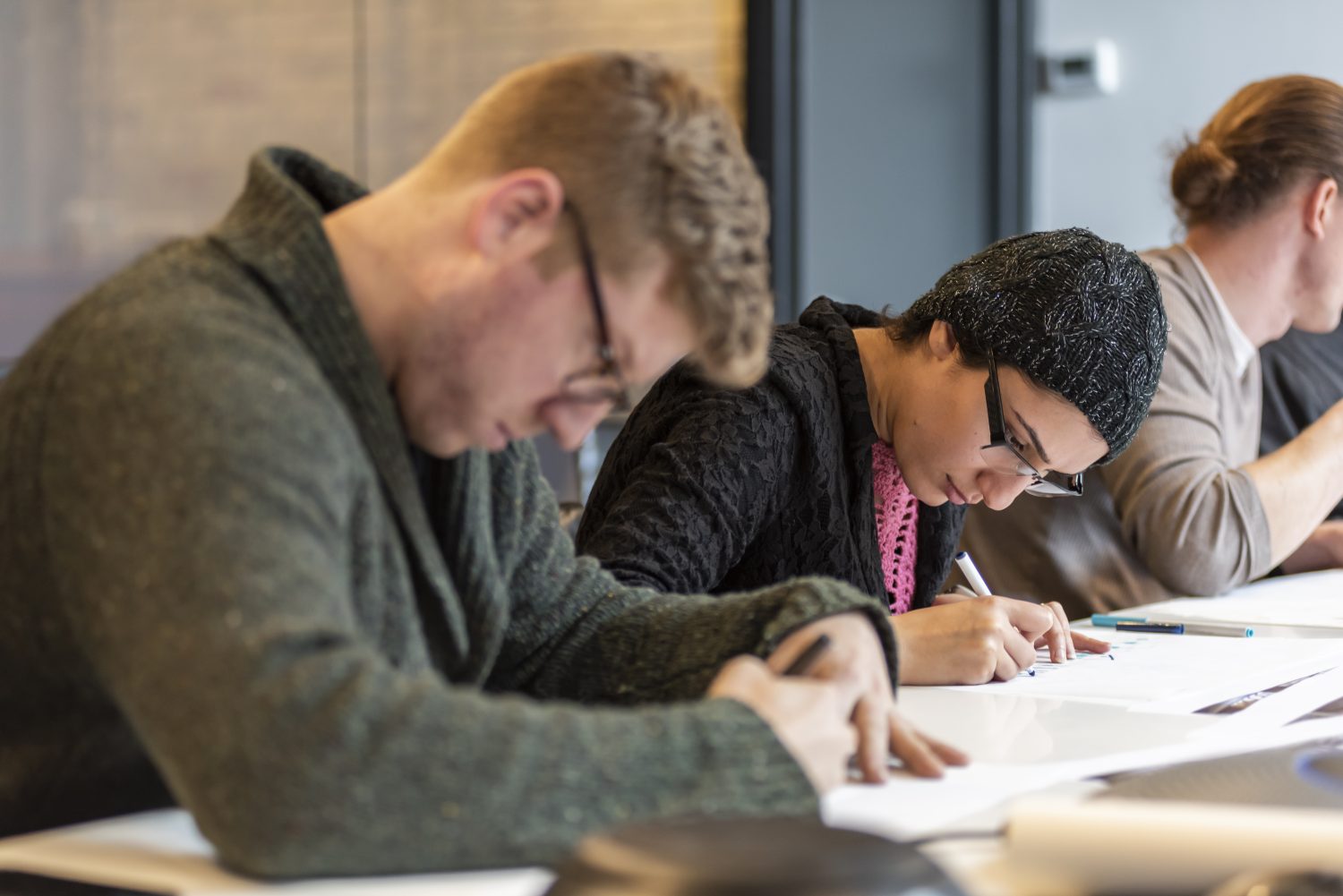 LONGFELLOW RISING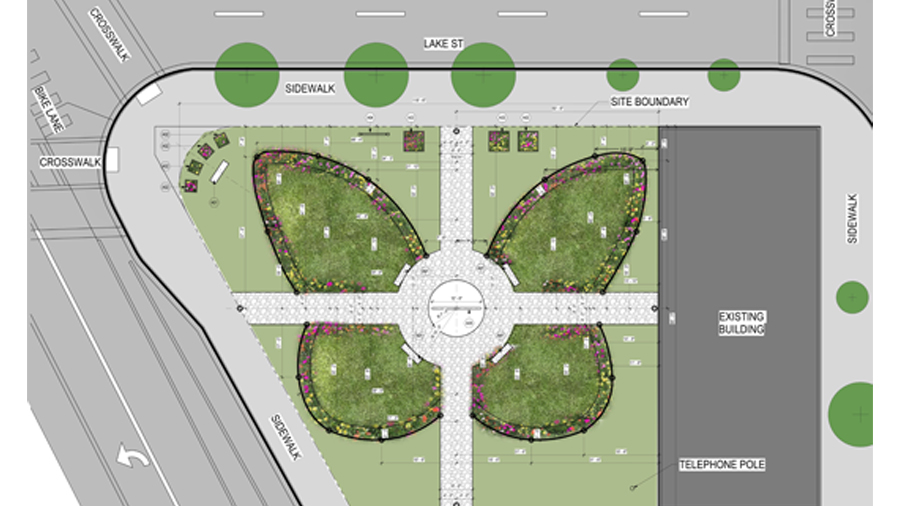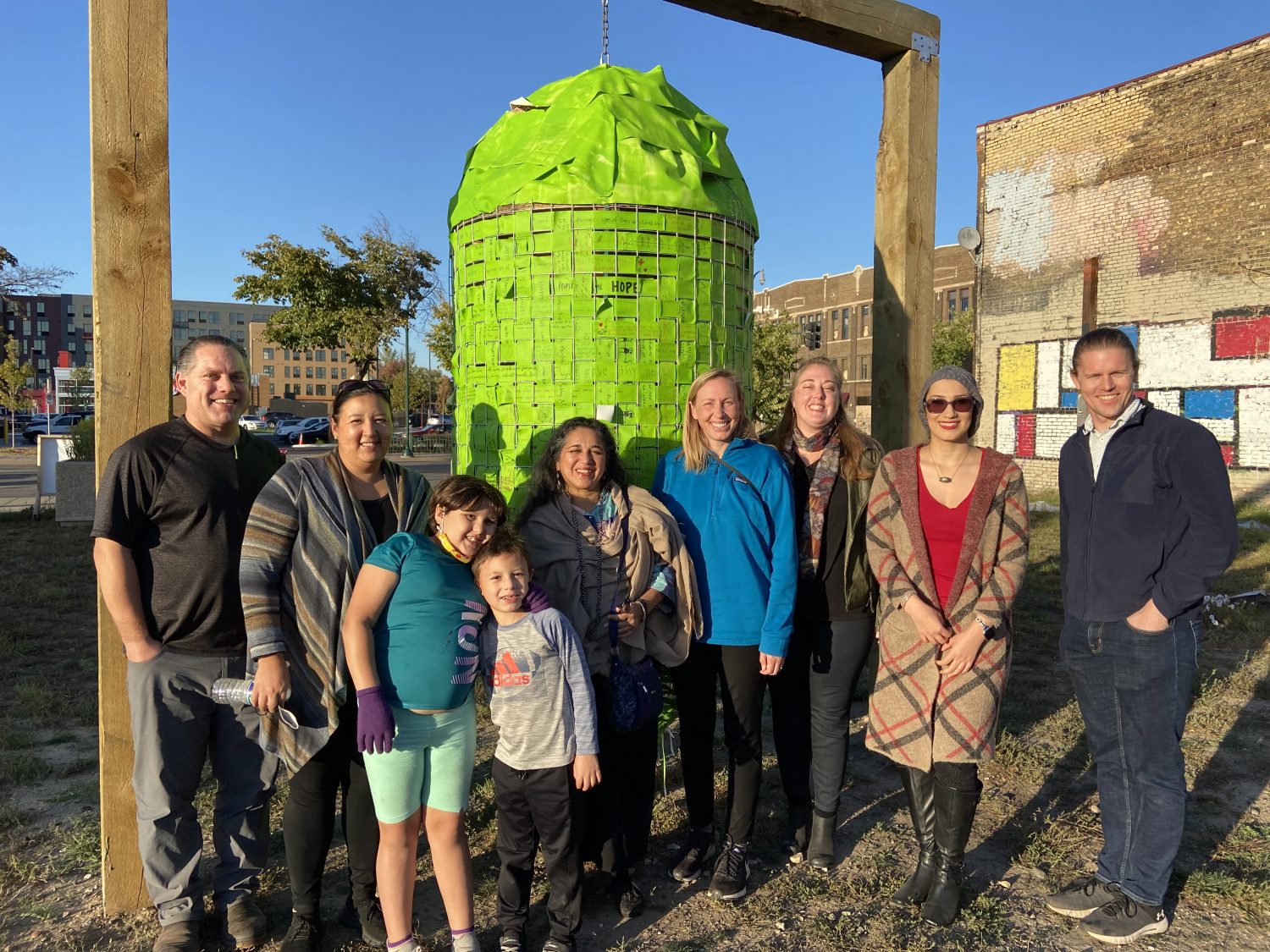 BKV Group is honored to support the Holy Trinity Lutheran Church & Pangea World Theater and the vision of artist Angela Two Stars to plant "seeds" of healing, renewal, and growth for the Longfellow community through a creative art installation. Longfellow Rising is a collective of property owners and community members who were affected in the unrest following the murder of Mr. George Floyd, with the Longfellow Rising project being a temporary art installation located in a vacant space where the Minnehaha-Lake Wine and Spirits building once stood. This site is located on ancestral, traditional, and contemporary land of the Dakota people, and the public art piece engaged the community by asking them to write their laments and hopes for the future on green vinyl strips. The strips were then woven together into a "cocoon" structure. In the next phase of the project, the strips will be re-woven into a large mural of a butterfly at the future public plaza at the Panegea World Theater, symbolizing the community's laments metamorphizing into new life through a collective process of healing.
Isuroon
Isuroon is a women-led, community-driven organization motivated by the belief that Somali women and girls deserve to be healthy and have a strong voice. Isuroon  (meaning, "a woman who cares for herself") is a linguistic and cultural bridge connecting women with wellness information, trusted healthcare providers, financial literacy, and civic engagement and leadership. For healthcare providers and policymakers, Isuroon is a partner to improve outcomes and decrease disparity through culturally competent training and research.
BKV has helped Isuroon with a concept package to help re-envision space for long-term operation of Isuroon in the East Philips neighborhood. The environment is being designed to support inspiration, health, and wellness through colorful, vibrant spaces that are focused on the celebration of culture and community.
ROCHESTER CLOCK AND BELL TOWER
BKV Group is working with the Rochester Fire Department and community members to preserve an important piece of the city's history. Built in 1898 at the intersection of 4th St and South Broadway the Central Fire Station was demolished in 1930 to make way for Broadway's extension southward. The clock and bell from that prominent building, however, were saved. After being relocated a couple of times downtown area, the clock and bell were put into storage in 2015. The newly designed tower will be a permanent home for the artifacts, and will be located prominently in front of Fire Station #1 on the corner of Broadway and 6th. The design pays homage to the original fire station, prominently featuring the four sided clock, intricate clock mechanism, and the 1,200 pound bell.
DENCITY COMPETITION: FUELING DIGNITY
DenCity competition brings awareness on formation of more slums and informal settlements and emphasizes on "empowering the people living in these settlements through cooperation and awareness". BKV Workshop focused this global project on women's health. As a means of addressing unsanitary and hazardous living conditions common in unplanned settlements, the team designed a passive intervention proposing a multi-story bathroom tower that reduces open defecation and centralizes human waste collection. This system provides equity and access to hygienic bathroom facilities, while creating a new economic opportunity for community residents by turning human waste into a resource. The team designed a system through which the community could collect, convert, and profit from this new resource, with the profits being used to increase the number of safe, hygienic, and easily maintainable toilet facilities.
LOVE FRIDGE
The Love Fridge is a non-profit organization in Chicago whose mission is to combat food scarcity and food waste by providing community fridge shelters in neighborhoods throughout the Chicagoland area. The organization has quickly grown over the past year with nearly thirty community fridge locations and counting. These shelters have provided a vital resource for the communities they serve, but over the past year many have endured harsh weather conditions and need full replacement or significant repair work. BKV Workshop has partnered with The Love Fridge to design, build, and replace existing locations. Through collaboration with the Love Fridge, the team has designed a new shelter prototype that addresses the community needs of added food storage, better access, and greater durability. The shelter prototype can be easily adapted to specific site needs and is designed to be constructed off-site, transported, and assembled on-site by a team of two-three people.
North Loop Root District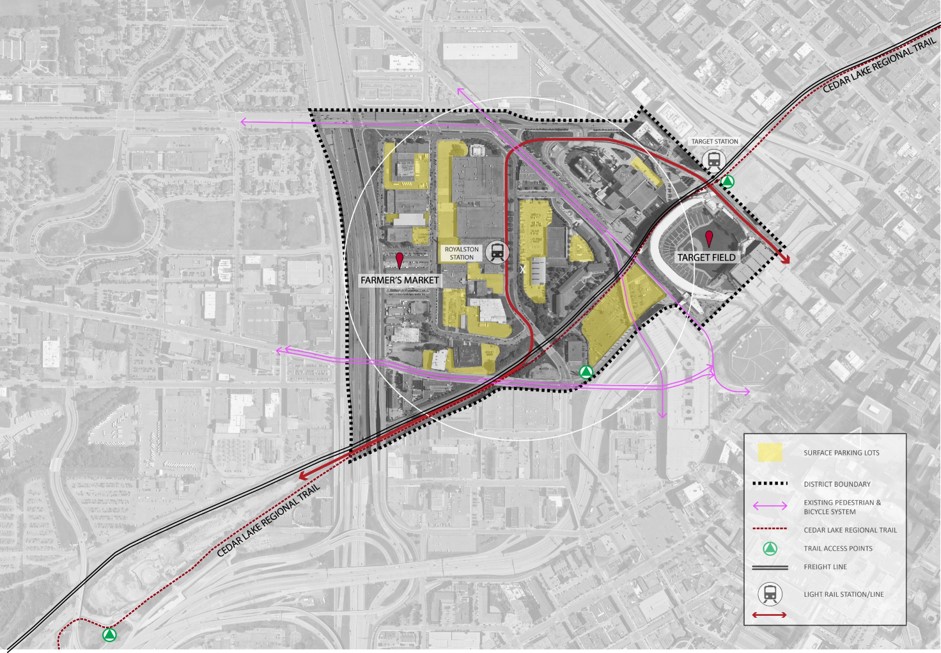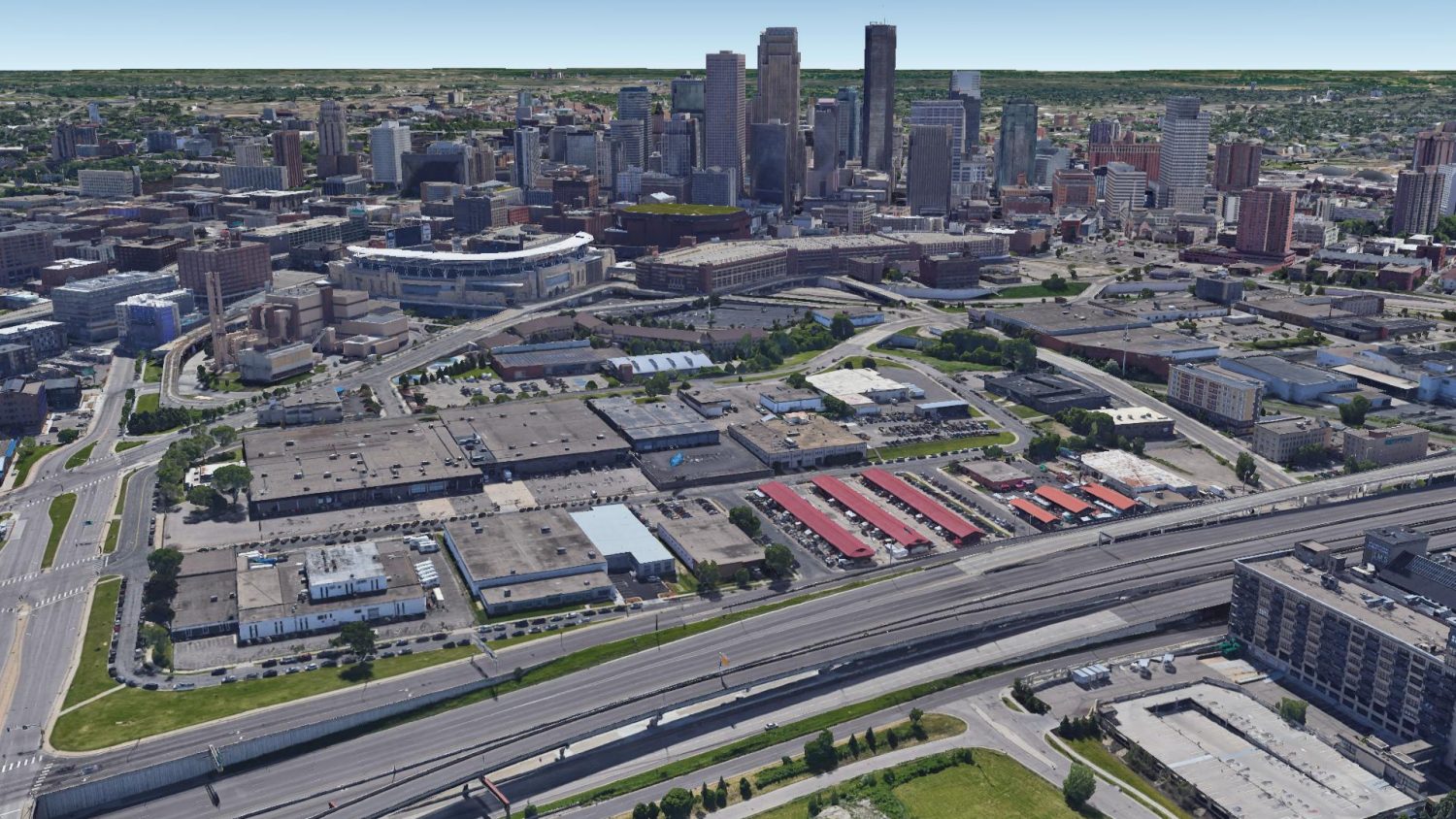 The North Loop Root District is currently a low-density industrial area located near downtown Minneapolis. Most would recognize the district for its famed farmers market, with the Root District also host to the Royalston Station, the closest station to downtown Minneapolis and one of the key heritage, arts, and culture stations in the area.
Root District has three main committees: equity, climate, and creativity, with BKV Workshop leading the creativity committee. Our efforts in this committee are organized around District identity, public realm, mobility, built form, and health. This development framework reinforces and expands on the Root District Vision to create a cohesive and comprehensive long-term strategy for development in the corridor. Anchored by the Minneapolis Farmers Market and the forthcoming Southwest LRT Royalston Station, we hope the Root District will provide one of the best opportunities in Minneapolis over the next 25 years for innovative and equitable development. with the added potential to harness the power of food, art, and culture.