Launching Our Texas Office
BKV Group has hired a key leaders in multifamily housing to open the firm's fourth office in Dallas, Texas. Jonathan Delcambre joined the firm mid-year, securing space in Adolphus Tower in downtown Dallas. Similar to the firm's three other locations in the U.S, their Dallas studio at 1412 Main Street will occupy a creatively repurposed building that reflects the firm's focus on revitalization. The opening celebration is planned for February 2019 when all office renovations are complete.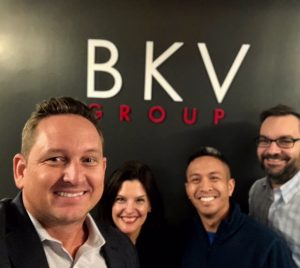 The dynamic Dallas market seamlessly aligns with BKV Group's national practice which specializes in urban, mixed-use multifamily housing, with regional offices also designing local government facilities across the country. Vibrant and expanding, Dallas provides the platform for BKV Group to grow their urban and high-rise design specialties, while offering innovative pre-development services. One such project the Dallas office is spearheading is a 14-story development in the Knox area with construction starting this year.
"In addition to a robust multifamily housing market, Dallas offers BKV Group the geographic diversity we have sought since our initial expansion to Chicago in 2007," said Jack Boarman, Partner and CEO. "The growth of our existing primary vertical markets will be strongly supported in this location."
Jonathan Delcambre, LEED AP BD+C, Partner, Urban Design at BKV Group has more than 19 years of experience in architecture and design, operating within numerous sectors around the globe. He has a broad range of experience in all aspects of the contemporary design process, from conceptual and schematic design, through the development of sophisticated construction details. Jonathan also excels at management and mentorship of in-house staff, and coordination with contractors and consultants. Jonathan has helped create and produce a wide range of design concepts and documentation in high-rise residential, hospitality, mixed use, master planning, educational, and adaptive reuse.
Here's a Texas-sized toast to our new colleagues in Dallas. Cheers!