Fridley Civic Complex to create strong civic presence on redeveloped site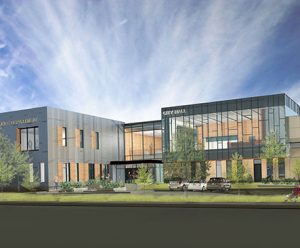 In 2014, after sitting vacant for nearly a decade, the city acquired the Columbia Arena site adjacent to the existing public works facility. Working closely with citizen input to determine the best re-use of the site, the city received feedback in favor of creating a strong civic presence. The Fridley Civic Complex will include a new city hall with administrative office and associated areas, police station, fire station, and a new public works facility, with parking to accommodate staff and public. The civic complex will be the central feature in a larger project currently called the Columbia Arena Redevelopment. The project also includes a water feature, with plans for future private development.
One of the City's goals was to maximize the area for private development on the site, while still allowing sufficient space for the City's needs and a large water feature with walking trails connecting to the nearby park system. BKV Group designed a master plan for the entire site that minimized the City's footprint to maximize the remaining site area for other uses. Working on a restrained site, site access and circulation were very important to ensure all operational needs were achieved for the public works, fire, and police departments. In addition, the buildings were designed to allow open views of the new water feature and create a daylit modern work environment.
This project is currently under construction, and on-schedule to be completed in September 2018!